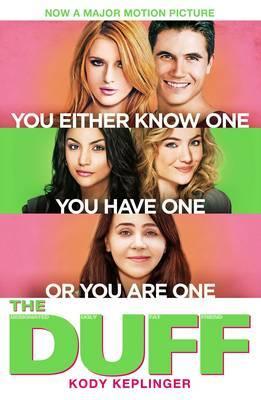 Seventeen-year-old Bianca Piper is cynical and loyal, and she doesn't think she's the prettiest of her friends by a long shot. She's also way too smart to fall for the charms of man-slut and slimy school hottie Wesley Rush. In fact, Bianca hates him. And when he nicknames her "Duffy," she throws her Coke in his face.
But things aren't so great at home right now. Desperate for a distraction, Bianca ends up kissing Wesley. And likes it. Eager for escape, she throws herself into a closeted enemies-with-benefits relationship with Wesley.
Until it all goes horribly awry. It turns out that Wesley isn't such a bad listener, and his life is pretty screwed up, too. Suddenly Bianca realizes with absolute horror that she's falling for the guy she thought she hated more than anyone.
********************
I will be entirely honest I genuinely got this book out of curiosity with the hype of the book and the movie rather than interest in the actual book itself and I didn't think it would be all that great but I was wrong.  The DUFF is a lovely heartwarming, jaw dropping hilarious telling of a teenagers journey with home life, friendship and living in a society that labels everyone.
Kody Keplinger is a talented writer who has created a modern YA contemporary novel that is just an all round joy to read. There is a great flow to the book everything gradually builds towards the end in Bianca's story. Bianca herself is in my opinion freaking hilarious. She knows exactly who she is and even when she tries to pretend she isn't she still knows what's up, in the end she accepts herself and what she needs to work on. I mean she is young, we all have stuff we need to work on making better right? The characters in this book are very controversial and have many layers but that's what makes them so real adding to the novel. Come on everyone has there flaws.
One of the biggest themes of the book is labeling. We live in a society, particularly our time spent in high school, where people are labeled for whatever reason, what they like, dress like, look like and act like. There are endless ways people can be labeled and not all of them are nice. At first I thought this book was going to just skim this and be entirely off course but Kody Keplinger really makes you think and talk about it, making realisations not only about the characters but about ourselves and the way we are labeled, the way we label others and our attitudes towards labeling. I really enjoyed this particular approach towards the book and it gave this book that edge that puts it above countless other high school based teenage angst romance books in the world.
The story-line and ending is sort of predictable but it doesn't take away from the …awesomeness for lack of a better word…of the novel. I haven't seen the movie adaption of the book but from what I can tell from trailers there is not a lot of similarity a part from some of the characters and parts of the story-line. So my advice would be do not compare the book and movie read and watch each one for itself instead of nitpicking the differences because honestly I think it might give you a headache.
THE DUFF in three words
Hilarious. Feelgood. Fun.
Finally thank you Hachette Children's Books and Hodder Children's Books for the ARC via NetGalley in return for an honest review.
*********************
Recommendation Level: 4.5/5
Pages: 300
Genre: Young Adult, Contemporary, Romance