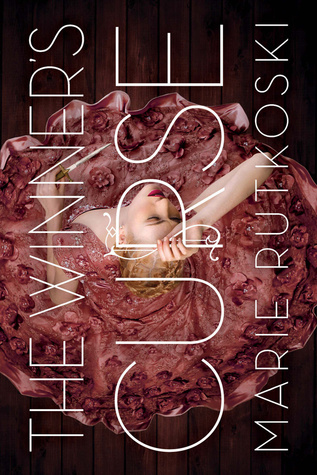 Winning what you want may cost you everything you love… 
As a general's daughter in a vast empire that revels in war and enslaves those it conquers, seventeen-year-old Kestrel has two choices: she can join the military or get married. But Kestrel has other intentions.
One day, she is startled to find a kindred spirit in a young slave up for auction. Arin's eyes seem to defy everything and everyone. Following her instinct, Kestrel buys him—with unexpected consequences. It's not long before she has to hide her growing love for Arin.
But he, too, has a secret, and Kestrel quickly learns that the price she paid for a fellow human is much higher than she ever could have imagined.
Set in a richly imagined new world, The Winner's Curse by Marie Rutkoski is a story of deadly games where everything is at stake, and the gamble is whether you will keep your head or lose your heart.
*************************
"The Winner's Curse is when you come out on top of the bid, but only by paying a steep price"
I don't even know where to start with this review, I mean have you ever read a book series that blows you away and leaves you completely speechless? It has been a long time since I have fallen so completely in love with a book that I had forgotten what it was like but within 10 minutes of starting The Winner's Curse I knew there was something special happening, so much so I read it in a day- Couldn't put it down!.
I requested a copy of the The Winner's Crime the second book in this series without realising it was a sequel and instead of cheating and just reading the second (thankfully I didn't) I got my hands on the first one and wow.
Let's start with the cover- isn't it beautiful! It is… for lack of a better word… majestic. It stands out from the crowd (which is what drew me to the second book i'll admit it) and I mean it I have already dragged one friend to our local bookshops to show her it and convince her to read it and also convinced another to read it as well. I need people to obsess with over this book/series (do you know what I mean?)
It centers around a generals daughter called Kestrel who lives in a colony of Valorians who conquered and enslaved the Herrani people who previously resided there. The Valorians (think of the Romans) are a great warrior people who take pride in conquering other not so fortunate people like the Herrani (every unfortunate place that got conquered and enslaved ever). Anyway due to their…lifestyle… the Valorians require all young people at a certain age to either marry or join the military. Kestrel the central character of this series and who's perspective we mainly witness this world from thinks this is her biggest worry in life until she buys a slave named Arin and realises there might be something much bigger happening in her colony.
Kestrel quickly became one of my favourite literary characters of all time as she posesses a fighting spirit and thinks for herself and acts on her thoughts and wishes instead of following the "norm" when she knows it is wrong. It's quite obvious from the very beginning that Kestrel is a fighter at heart, she sees things for what they are- mostly, and she is a quick whited thinker that knows how to play the game.
Arin is the slave that lets readers see that there is always hope even in the direst of situations. Arin's introduction and involvement in the story-line is a brilliant move by Marie Rutkoski. He is the type of person that we all wish to meet and was exactly who Kestral needed to meet at this time in her life.
Wow, this is a very long book review so I am going to simply leave it here and say READ IT PLEASE! The Winner's Curse series is astounding and brilliant!
(Some)Favourite Quotes
"even the God of lies loves you" 
"Isn't that what stories do, make real things fake and fake things real?"
"Happiness depends on being free and freedom depends on being courageous" 
---
Recommendation: 
Genre: Fantasy, Young Adult
Publish Date: March 2014
Pages: 355