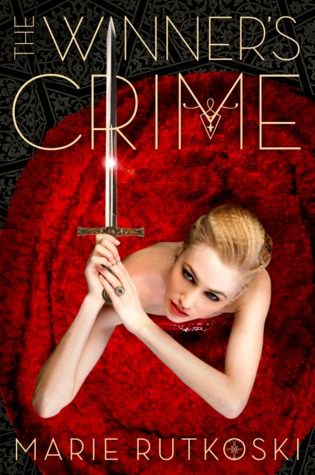 Goodreads     Amazon   The Winner's Curse #1 Review
Lady Kestrel's engagement to Valoria's crown prince calls for great celebration: balls and performances, fireworks and revelry. But to Kestrel it means a cage of her own making. Embedded in the imperial court as a spy, she lives and breathes deceit and cannot confide in the one person she really longs to trust …
While Arin fights to keep his country's freedom from the hands of his enemy, he suspects that Kestrel knows more than she shows. As Kestrel comes closer to uncovering a shocking secret, it might not be a dagger in the dark that cuts him open, but the truth.
Lies will come undone, and Kestrel and Arin learn just how much their crimes will cost them in this second book in the breathtaking Winner'strilogy
*************************
I received an ARC of The Winner's Crime via Netgalley in exchange for an honest review, thank you!
(If you haven't read The Winner's Curse then go do that now! otherwise spoilers!)
BEST READ OF 2015. BEST 2015 RELEASE.
There I said it now, can't take it back. And I wouldn't want to either I read this book and the first in the series in less than 2 days!  My eyes never left the words on the page and that to me is the recipe for a fantastic fantasy series. Not many sequels can live up to the first book but Marie Rutkoski proved once again that she is one of the most talented and amazing YA/ Fantasy Authors out there today (and friendliest!).
I honestly do not know how I will manage the long wait till I have the third book in the series The Winner's Kiss in my hands, 2016 cannot come quick enough!
It starts not long after that heartbreaking cliffhanger of book one with Arin now in charge of Herran and Kestral about to marry the Crown Prince. Kestral soon realises that the Capital is a very deadly place to be and if she doesn't play the game according to the Emperor's wishes life could get very bad very fast for her.
There are a lot of changes to Kestrals life but they are all interwoven expertly by Marie Rutkoski and I loved every twist and turn the book took- never a dull moment. In fact there were several times throughout where I literally was screaming at the book and wondering how and why and no! To incite emotion like that in a reader takes a very skilled author and a brilliant plot to boot. Both of which The Winner's Crime does have.
One thing I do love about this book is that all the characters are real and you can really see them acting this way and doing these things, it is very realistic and excellently portrayed. I feel like I am more praising this book than critically reviewing it but that's because I love it so much and do not want to give away all the mystery and suspense  this book creates through spoilers as it is part of what makes this novel so fantastic!
So I will finish here and simply say read this book and read the series. It is by far one of the best of 2015. One of my all time favourite Young Adult/ Fantasy books filled with daring heroes and heroins, treasonous trickery and evil masterminding.
Favourite Quote
"If you won't be my friend, you will regret being my enemy"
---
Recommendation: 
Genre: Fantasy, YA
Published: March 2015
Publisher:Bloomsbury Children's
Pages: 400