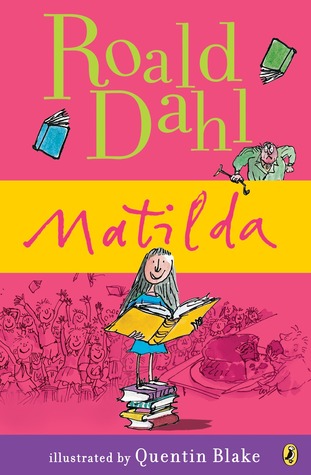 Matilda is a sweet, exceptional young girl, but her parents think she's just a nuisance. She expects school to be different but there she has to face Miss Trunchbull, a kid-hating terror of a headmistress. When Matilda is attacked by the Trunchbull she suddenly discovers she has a remarkable power with which to fight back. It'll take a superhuman genius to give Miss Trunchbull what she deserves and Matilda may be just the one to do it!
***************
(If you haven't seen the movie or read the book probably best to skip reading this review)
I think all of us have watched the movie Matilda at least once (more like 10) times but how many of us have read the famous book the movie was based on? I decided earlier on that it was time to return to my childhood and listened to the audiobook (and yes it did take me two hours to realize the narator was Kate Winslet- who is amazing at it! – terrible narrators can ruin a book for me, is anyone else like that?)
Matilda is one of those characters we all wished we could be when we were young- she was smart, funny and let's not forget the powers! We all secretly wanted those. One of the smartest and bravest little girls in any literature to date brought to life this imaginative and entertaining children's book making it one of the best I have read and one reason in particular to love the titular character is Matilda's love of books.
It was written by one of the UK's greatest authors (along with J.K. Rowling) who really ignited my passion for reading. I remember the first book I really read on my own was The Witches by Roald Dahl and have never read one of his books that I haven't liked- although the BFG used to terrify me when I was little.
And let's not forget that evil Mrs Trunchbull! I think for me she will probably always be one of the most evil and cunning villains to ever fall in the pages of a book.
Reading (listening) to the book as an adult means seeing the book differently than when reading is as a kid- you see a lot of the negative things you didn't know about when you were little but that doesn't take the fun and joy out of reading Matilda and I think everyone needs to read a book like this at some point in their life.
What about all of you, have you read the book? Or what's the book from your childhood that you remember and love the most?
---
Recommendation Level: 
Genre: Children's Fiction
Publish Date: 1988
Publisher: Puffin Books
Pages: 240
---
Popsugar's Reading Challenge 2015 | Read a Book From Your Childhood.