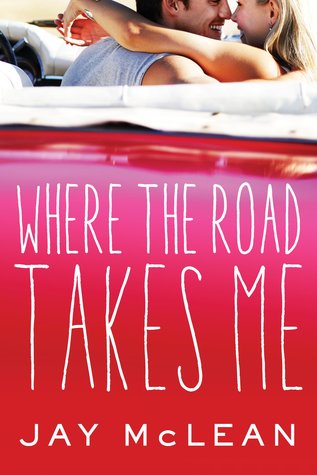 Chloe has one plan for the future, and one plan only: the road. She's made a promise to herself: don't let anyone in, and don't let anyone love her. She's learned the hard way what happens if she breaks her rules. So she's focused on being invisible and waiting until she can set out on the road—her dream of freedom, at least for a little while.
Blake Hunter is a basketball star who has it all—everything about him looks perfect to those on the other side of his protective walls. He can't let anyone see the shattered pieces behind the flawless facade or else all his hopes and dreams will disappear.
One dark night throws Chloe and Blake together, changing everything for Blake. For Chloe, nothing changes: she has the road, and she's focused on it. But when the so-called perfect boy starts to notice the invisible girl, they discover that sometimes with love, no one knows where the road may lead
 What I Thought
Firstly thank you to the publisher for giving me a copy via Netgalley in exchange for an honest review. I started reading this book solely on a recommendation from a friend and fellow blogger who has really similar tastes in books as me so of course I went and got it when she told me how amazing it was!
There are endless amounts of books in the world where boy meets girls, girl and boy fall in love instantly and then girl fights boy on being together but only very few of these books are worth reading and Where the Road takes me by Jay McLean is one of them.
I don't normally like books where there is instantaneous love between characters but Jay McLean has written a book that incorporates the love story perfectly and adds an extra little something that just brings the book together in a spectacular way.
Minor characters in this book all have their own stories which were entertaining to learn about but the real stars of the book were Blake and Chloe. Two people that found each other when they needed help the most even if neither realized it or admitted to needing it.
Reading this was a refreshing change from other books I have read in the past, it went in a direction that I didn't see coming and was a very enjoyable read with some great messages attached to it.
P.s Keep reading until the end of the epilogue- you will understand why eventually.
Favourite Quote: "And in the end, it's not the years in your life that count, it's the life in your years".
---
Recommendation Level: 
Genre: New Adults, Romance
Publish Date: February
Publisher: Skyscape
Pages: 323