I know, I'm terrible at actually picking a date to publish this it Originally was Thursday, then Friday and today is Saturday but yesterday was a busy day! I did really well this week I think in terms of reading finished 3 books, received two eARC'S and completed part of my challenge goals for the month. If you have been reading some of my blog posts this week then you may have noticed that I have changed a few things- the way I am recommending books (4 moons- for example, because I just like the moon meme's and it's a bit different than stars, might change it might not) and also I have these awesome little banners now as well for different sections.
To be perfectly honest I'm not reading anything at this moment in time. I finished an Abundance of Katherine's by John Green last night and another book as well. So i'm in that period where I need to choose the next book to read and I am stuck, any recommendations?
 "Midlife crisis? WHAT midlife crisis?!"
Charlotte Bristow is worried about her husband Will. With her 16-year-old daughter Rosie newly signed to a top modelling agency, and Will recently out of a job, things are changing in their household.
As Will dusts down his old leather trousers and starts partying with their new, fun neighbours, Charlotte begins to wonder what on earth is going on.
So when Fraser, Charlotte's ex – and father of Rosie – suddenly arrives back on the scene, she starts to imagine what might have been… (as seen on Goodreads)
I received an eArc of this book from the publisher via NetGalley- Thank You! I actually read this book on Thursday when I was waiting for buses (always late!) completely different than what I thought it was going to be like and I loved it! First time I have read a book by Fiona Gibson and I will definitely be trying to read some more, a wonderful read. Review Coming Soon.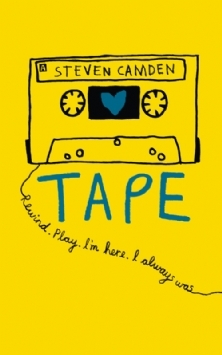 Record a voice and it lasts forever…
In 1993, Ryan records a diary on an old tape. He talks about his mother's death, about his dreams, about his love for a new girl at school who doesn't even know he exists.
In 2013, Ameliah moves in with her grandmother after her parents die. There, she finds a tape in the spare room. A tape with a boy's voice on it – a voice she can't quite hear, but which seems to be speaking to her.
Ryan and Ameliah are connected by more than just a tape.
This is their story (as seen on Goodreads)
I received an eARC of this book thanks to the publisher via NetGalley- Looking forward to starting this one!
  When a raven drops a white feather at the doorstep on the day of your birth, it is a symbol of your destiny. You are a Whisperer – a guardian of the wild. After many years of peace in the kingdom of Meridina, rumours are spreading of a planned invasion – could the demonic Narlaw be returning from the darklands? It is up to the Whisperers and their animal companions to defend Meridina, protect Princess Ona and stop the Narlaw from destroying their world.
When hunters from her village disappear without a trace, Alice suspects that something sinister is at work. With the help of Storm, her wolf companion, Alice fights to save her village. The Narlaw are on the attack and it's up to the Whisperers to stop them…
 Katherine V thought boys were gross
Katherine X just wanted to be friends
Katherine XVIII dumped him in an e-mail
K-19 broke his heart
When it comes to relationships, Colin Singleton's type happens to be girls named Katherine. And when it comes to girls named Katherine, Colin is always getting dumped. Nineteen times, to be exact.
On a road trip miles from home, this anagram-happy, washed-up child prodigy has ten thousand dollars in his pocket, a bloodthirsty feral hog on his trail, and an overweight, Judge Judy-loving best friend riding shotgun–but no Katherines. Colin is on a mission to prove The Theorem of Underlying Katherine Predictability, which he hopes will predict the future of any relationship, avenge Dumpees everywhere, and finally win him the girl. Love, friendship, and a dead Austro-Hungarian archduke add up to surprising and heart-changing conclusions in this ingeniously layered comic novel about reinventing oneself.
Plus As Good As it Gets by Fiona Gibson (as seen above)
British Book Challenge 2015- I have now read 3 books by British Authors, one in January and 2 so far in February. British books read this week were As Good as it Gets by Fiona Gibson and A Whisper of Wolves by Kris Humphrey. They were two completely different books and I am loving the variety I get to read thanks to this challenge! Reviews are coming soon.
How has your reading week been?