I've changed my mind Friday Bookish Updates will now be a regular thing because I like it better posting it on Fridays rather than on Thursdays. I have had rotten luck this week so I am taking extra pleasure in being able to sit down under a nice warm blanket and read a good book.
Currently Reading
I have to admit I am always reading several books at the one time. I don't intend to do it but it does always end up happening. My usual book reading habit formula looks a little something like this; one physical book (of a reasonable size i.e. up to 300 pages roughly) + one e-book (that I can read anywhere at any time) + giant book = one happy blogger. This week I seem to be following my trend.
 Katherine V thought boys were gross
Katherine X just wanted to be friends
Katherine XVIII dumped him in an e-mail
K-19 broke his heart
When it comes to relationships, Colin Singleton's type happens to be girls named Katherine. And when it comes to girls named Katherine, Colin is always getting dumped. Nineteen times, to be exact. 
On a road trip miles from home, this anagram-happy, washed-up child prodigy has ten thousand dollars in his pocket, a bloodthirsty feral hog on his trail, and an overweight, Judge Judy-loving best friend riding shotgun–but no Katherines. Colin is on a mission to prove The Theorem of Underlying Katherine Predictability, which he hopes will predict the future of any relationship, avenge Dumpees everywhere, and finally win him the girl. Love, friendship, and a dead Austro-Hungarian archduke add up to surprising and heart-changing conclusions in this ingeniously layered comic novel about reinventing oneself. (as seen on Goodreads)
This is one of the books that Kayleigh @ Miserable & Magical let me borrow (Go check out her blog if you haven't it's awesome!) Haven't read very much of it yet but it looks amazing so hopefully I will have read it by Monday 🙂                                                        
When a raven drops a white feather at the doorstep on the day of your birth, it is a symbol of your destiny. You are a Whisperer – a guardian of the wild.Many years have passed since the people of Meridina last knew war, but a shadow has settled over the kingdom. When Alice and her companion, Storm, sense a demonic presence in the forests, they send for help. But they're running out of time. With the entire balance of the natural world at stake, will Alice and Storm have to face the demons alone?A dramatic and fast-paced new series, perfect for fans Michelle Paver, Gill Lewis and the Warrior series. (as seen on the publishers website)
A Whisper of Wolves by Kris Humphrey is one of Little Tiger Press's publications being released in March 2015 and so far it is a great little read. A great well-written children's/ early teen's book. Thank you to the publisher for giving me an eARC via NetGalley.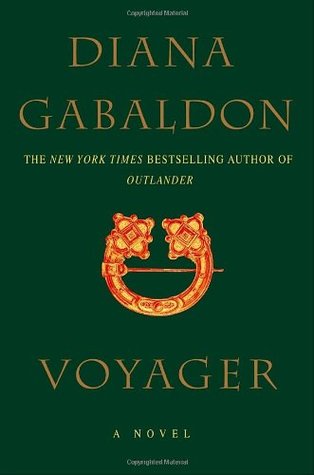 Voyager by Diana Gabaldon. Not much to say on this book except that it is the third in the Outlander series. A series of books that have quickly become one of my all time favourites! and that I have been reading bits of this book here and there for the last month. It's a hard read but I love it like I loved the first two books!
New Books 
  Vincent is an apprentice librarian who stumbles upon a secret powerful enough to destroy his master. With the foolish arrogance of youth, he attempts blackmail but the attempt fails and Vincent finds himself on the run and in possession of an intricately carved silver raven's head.
Any attempt to sell the head fails … until Vincent tries to palm it off on the intimidating Lord Sylvain – unbeknown to Vincent, a powerful Alchemist with an all-consuming quest. Once more Vincent's life is in danger because Sylvain and his neighbours, the menacing White Canons, consider him a predestined sacrifice in their shocking experiment.
Chilling and with compelling hints of the supernatural, The Raven's Head is a triumph for Karen Maitland, Queen of the Dark Ages
I received an eArc of  The Raven's Head by Karen Maitland from the publisher 'Headline'via Netgalley thank you! This book has received great reviews on Goodreads and the author has been praised very highly so I think this will be a brilliant read and a book to look out for in 2015.
Reading Challenge
2015 Reading Challenge-
British Reading Challenge 2015- Pride and Prejudice by Jane Austen | Book Review
I have only read and reviewed one book by a British Author so far but I am reading another one at the moment.
What are you all reading this week? Any new books?