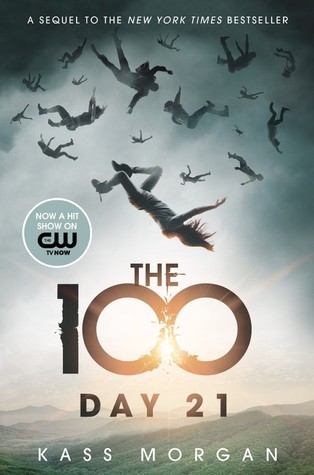 Recommendation Level: 4/5
Goodreads  Amazon                                                                                                          The 100 #1 Book Review                                                                                       Pages: 320 Pages                                                                                                                                   Publisher: Little, Brown Books for Young Readers                                                                       Published: September 16th 2014                                                                                              Genre: Sci-Fi,  YA, Romance                                                                                                                       How did I get it? I received an eARC via NetGalley in return for an honest review.
**********                                                                                                                                                                         No one has set foot on Earth in centuries — until now.
It's been 21 days since the hundred landed on Earth. They're the only humans to set foot on the planet in centuries…or so they thought. Facing an unknown enemy, Wells attempts to keep the group together. Clarke strikes out for Mount Weather, in search of other Colonists, while Bellamy is determined to rescue his sister, no matter the cost. And back on the ship, Glass faces an unthinkable choice between the love of her life and life itself.
In this pulse-pounding sequel to Kass Morgan's The 100, secrets are revealed, beliefs are challenged, and relationships are tested. And the hundred will struggle to survive the only way they can — together.                                                                  
**********                                                                                                                                                                         What do you do when you are forced into a scenario so outside of what you thought would ever happen to you? What do you do when  everything you ever believed about earth and it's inhabitants  is completely wrong? and what do you do when you suddenly have to fight with people you have lived with your entire life to survive?
In the second book in the Hundred series by the talented Kass Morgan these are the questions that the characters are faced with. After the dramatic events of the first book where 100 underage fugitives were sent to earth, a planet where humans have not lived since the nuclear war that destroyed the atmosphere,  from their dying ARC spaceship they are faced with the challenge of survival and the knowledge that they may not be as alone as they thought.
When sickness spreads through the camp and with winter well on it's way on Day 21 since they landed, the hundred have to act quickly to save there selves  and survive. On the ARC up in space one of the hundred that managed to stay behind  now has to fight to get off the ship with her family or die on the oxygen-less ARC.                                                                   Wow, just Wow and what a way to end it! I thought the first book was quite good but this one just blew that one out of the water. The plot, the character development and the spicy tree growing sweetcorn were all fantastic. Once again Glass was my favourite character, the things she has to deal with and to still be so strong. Murphy's Law plays a large part here.
I also loved the chapters about earth (which I skimmed in the first book). Life is hard and I loved that this book didn't sugarcoat that. It was real and plausible and mysterious as well. Definetely recommend this book to anyone wanting to be shocked.